Wondering what will match your wedding attire? Not sure what kind of jewellery is the right kind for you. Here are some options that will help you pick and decide the right kind.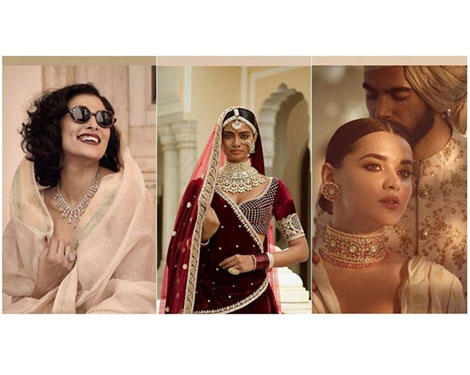 Can't decide what to wear on your wedding day? Invest on a choker with white diamonds if you are wearing a light-weight lehenga or opt for a statement temple jewellery in yellow gold if you are wearing a traditional silk sari, experts say.
Rajesh Tulsiani, Director at Dwarkadas Chandumal Jewellers and Prakshi Sharma, Creative Head at Prakshi Fine Jewellery, have listed few options:
* Chokers are one of the most trending necklaces that complement almost every type of traditional outfit – from lehanga cholis to traditional saris. A dainty choker in white diamonds or two to three line chokers embellished with rubies or sapphires can give a dazzling touch to a light-weight lehanga.
* Anyone can opt for chandbalis in uncut polkis and pearls, these are timeless and effortlessly complement traditional outfits be it a plazzo suit or an embroidered anaarkalis.
* Tennis bracelets crafted in white gold with white diamonds when worn with western gowns look stunning. Textured and edgy handcuffs crafted in yellow gold or white gold with coloured gemstones embellishment renders an affluent touch to the traditional outfits on weddings. Bracelets or handcuffs in filigree motifs are a flawless style statement on wedding occasions.
* Temple jewellery designs like matha patti, raani haar, baju bandh, kamar bandh and kanphool are very much popular and in trend for brides in any part of India. The antique style temple jewellery is typically worn as cuffs, oversized jhumkas and multi-purpose jewellery is also very in that is functional and looks great.
For those going for traditional saris in silk can opt for statement temple jewellery in yellow gold. It stands out among all others due to its royal and lustrous appearance.
* Pearls fused with diamonds add a surreal charm to the beauty of a bride. Opt for a jewellery set in pearls or team up a few pieces with some other jewellery, like gold, diamond and gemstones.
* Diamond jewellery goes well with any kind of bridal attire and adds more extravagance to the great occasion. Diamond chokers are an appropriate option and you can add colour stones to give a trendy look to the jewellery.