The Iraqi-British Zaha Hadid became famous for her intensely futuristic architecture characterized by curving façades, sharp angles, and severe materials such as concrete and steel. The structures she designed successfully accomplished what mystifies so many when they observe great architecture: She took the strongest materials in the world and manipulated them to form objects that appear soft and sturdy at the same time. Over the last two decades, her work has been honored by a long list of awards: In 2004 she was the first woman to be awarded the Pritzker Prize; in 2010 and 2011 she received the Stirling Prize, a British decoration for excellence in architecture; in 2014 her Heydar Aliyev Cultural Centre, like an undulating sheet of graph paper, won the Design Museum Design of the Year Award; and in 2016 she became the first woman to win the RIBA Gold Medal. Hadid's projects, many of which transform depending on the viewer's perspective, turn architectural convention on its head. The world lost a true visionary in 2016 when the 65-year-old Hadid died unexpectedly in a Miami hospital.
Michigan State University's campus was never the same after Zaha Hadid completed her design for the Eli and Edythe Broad Art Museum. Opened in 2012, the contemporary art museum appears frozen in motion.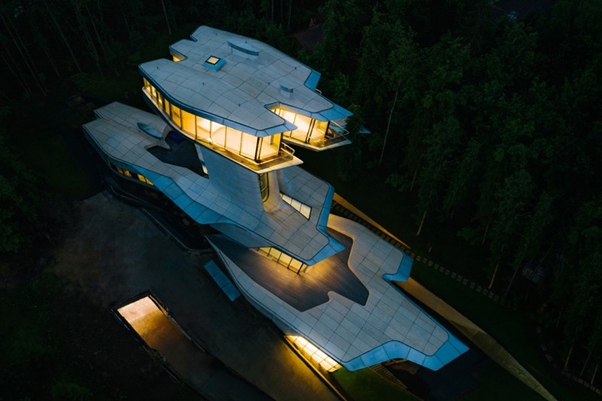 Capital Hill Residence was Zaha Hadid's only private residential design. Located in a forest near Moscow, the $140 million project is half submerged into the ground.

Clad in reinforced concrete and polyester, the 619,000-square-foot Heydar Aliyev Centre in Baku, Azerbaijan, is known for its swooping façade.
The Riverside Museum, an addition to the Glasgow Museum of Transport in Scotland, cuts a striking figure with its zigzagging zinc-clad roof.
The London Aquatics Center was designed to accommodate 17,500 spectators for the 2012 summer Olympics. It's undulating concrete roof features cutouts that allow natural light to filter in across the pool's blue water.