Families are our pillar of strength; to have a family is a pure blessing. For those who are not Mumbai-based, 'family' is a distant affair! Who would know this better than Sarika Bahroliya, our favourite Gudiya, who has been away from her family ever since she started shooting for Gudiya Humari Sabhi Pe Bhari? It is the first time she has been away from her family for so long, and due to the current lockdown, she couldn't make it back home, to Gwalior. But our Gudiya is one lucky girl for having found a family here in Mumbai!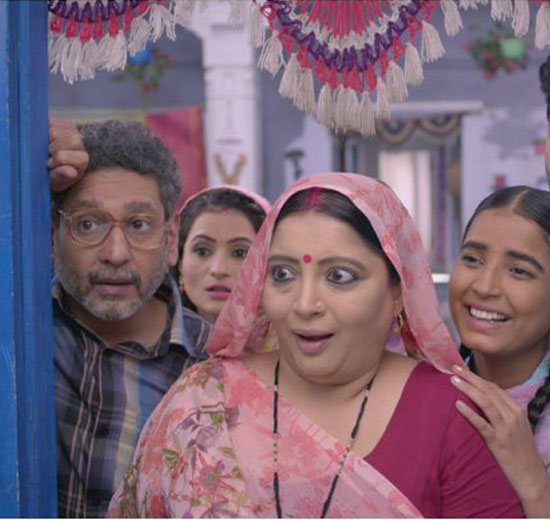 This International Day of Families, we will introduce you to &TV's Gupta family of Gudiya Hamari Sabhi Pe Bhari and the strong bond they share.
Sarika's onscreen father, Ravi Mahashabde, who ensures every day that his Gudiya doesn't feel alone in the city, says, "Sarika is nothing less than a daughter to me. One can imagine how distressing it can be to stay away from family during such difficult times. Nonetheless, she has us as her family here in Mumbai. We keep calling and checking up on each other every once in two days, sometimes even twice in a day. I try to keep her motivated and ensure she is taking it easy on herself. The whole team of Gudiya Hamari Sabhi Pe Bhari is there to support and protect her. Sarika is a lovely girl and quite a tough girl, I must say!"
Manmohan Tiwari, who plays the role of Pappu – Gudiya's onscreen brother shares, "The family you watch on the show is not just limited to dialogues and onscreen chemistry but goes much beyond that. There is a strong emotional bond which connects us, and we all respect each other like real family members. This beautiful bond has developed over a period, of shooting together, eating together, spending good times together. I miss this wonderful family of mine, especially Gudiya. She has become my offscreen sister, and I miss spending time with her. I often check on her to make sure she is fine."
Samta Sagar, who essays the role of Gudiya's mother in the show, keeps her in her thoughts every day. This International Day of Families Samta says, "Gudiya has been living by herself ever since the show started and she misses her family a lot. But she is pulling through like a tough girl! I keep chatting with her and keep her in my thoughts and prayers every day. We are all there for her."
She further adds, "I remember during shoot days, we would all make it a point to have meals together. At the moment we cannot be physically present for each other, but there is something powerful that binds us all together. Sarika, Manmohan, Shweta, Ravi, we are always connected."
Shweta Rajput, aka Sweety, Gudiya's favourite Bhabhi shares, "This is a challenging time for everyone, especially for those who are not with their family. Our Gudiya too stays in Mumbai alone, but we make sure that her chirpiness does not fade. Even on sets, she's the youngest of all, hence very dear to every member of the show. Sarika and I often talk about a lot of things. I always wanted a comfortable workplace with people whom I can talk to and connect with, and this is just the perfect family for me."
Sarika Bahroliya feels grateful to have found her second family in Mumbai, says, "The lockdown has taught me a lot and has been kinder than I thought. Initially, it was tough to pass days because I have never lived independently. Soon when Ravi sir, Samta Ma'am, Manmohan bhaiya and Shweta bhabhi all came together on a call with me, I realised that I have two families now. I didn't know I was loved so much. It has not only made me mentally strong but has also helped strengthen my bond with all of them. I have found my entire family on the sets of Gudiya Hamari Sabhi Pe Bhari!