Referred to as the fifth wall, your ceiling might not be the first thing you think of when it comes to updating your home for added luxury, but ceiling design ideas can make a world of difference in making any home feel one-of-a-kind. From classic vaulted ceilings to a modern minimal ribbon glass-plated ceiling, there's a style that'll suit every home.
And like with any home update, all it takes is a little research and intuition.
HERRINGBONE CEILING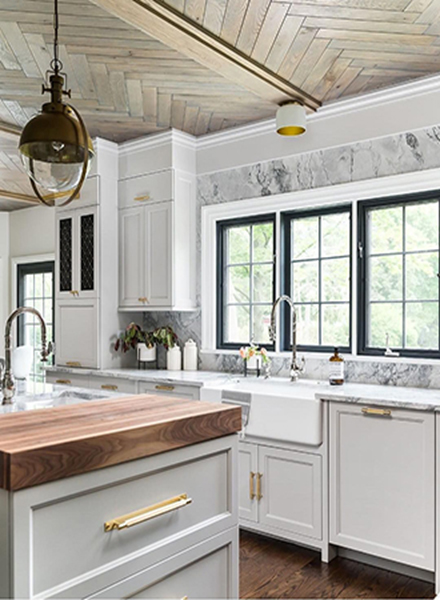 For something a little different than your usual painted ceiling, how about an intricate wood paneled herringbone ceiling? Ceiling design ideas are often plain and neglected, but a striking wood design will make a world of difference in your space.
It will add an elegant focal point to a room without it being overbearing, and it will make a wonderfully cozy addition to ceiling ideas for your living room, den, and bedroom alike. A herringbone ceiling will also boost the value of your home since it is a costly option to consider.
WOODEN BEAM VAULTED CEILING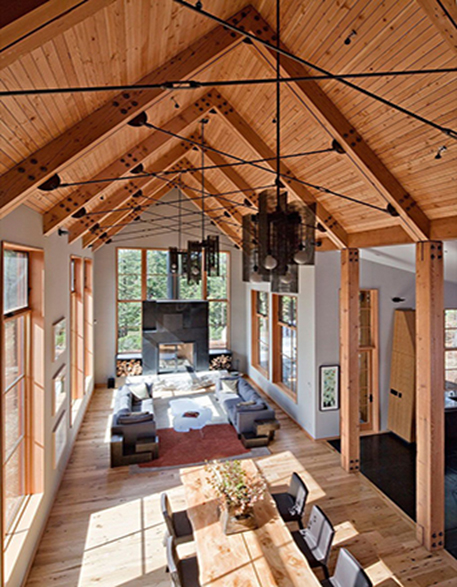 A vaulted ceiling with exposed wooden beams will give any home a grand and traditional feel with ease. If you have the space for it in your home (or are lucky enough to be building a new home from scratch) then ceiling design ideas like this are an incredible way to add statement-making character to your home.
To stop it from feeling too imposing, make sure there is plenty of natural light and that you've painted the walls and the ceiling between the beams a light and bright color.
EXPOSED BRICK
Who doesn't love the look and feel of exposed brick in any room? Whether you leave them natural or cover them in a coat of fresh white paint, exposed brick ceiling design ideas are sure to lend a comforting sense of warmth and texture instantly.
The key here is to make sure that your exposed brick ceiling is coated so debris doesn't fall from overhead.
BRIGHTLY PAINTED
Energize a room with an unexpected coat of fresh paint boasting a unique and statement-making color for added visual interest. From bold electric blues to a saccharine pink, the sky's the limit here.
The other great thing about paint when it comes to ceiling design ideas is how affordable and easy to source of a solution it makes. Just be sure that you opt for a color that isn't too over stimulating to keep the look easy on the eye.
PANELED
If you're on the hunt for game-changing ceiling design ideas, nothing beats a dramatically paneled ceiling, especially when curved. By adding panels above, you'll make a room feel more luxurious and well-judged in one fell swoop.
To get the look right, you'll need to bring in the best local millworker so it holds up over the years as symmetry and seamless quality construction are paramount here.
SHIPLAP
Much more affordable than custom panel ceiling design ideas, pre-cut shiplap boards are great for concealing uneven surfaces and they're relatively easy to install and are inexpensive to boot.
Plus, shiplap pairs well with several popular design styles including modern farmhouse, rustic, and coastal décor.
GLOSSY
Just like a mirror would, high-gloss ceiling paint will add a sense of everyday glamour to a room while making it appear brighter, larger, and more luxurious. That said, if your ceiling has any irregularities or blemishes, they'll be magnified by a glossy coat, which will, in the end, drive anyone crazy.
So be sure that your ceiling is in great condition before you begin updating it with a glossy coat of paint.