Many of us think that moving from a bigger house to a smaller one is unfortunate in many ways. The one question that comes to our mind would be 'Where do I keep all these stuff in this tiny apartment'? If no solution comes up, the only option we have is to either sell them or discard them. Of course, there are always certain things that we need to get rid of periodically-whether we are shifting to a new house or not. But what about others? What about the things with which you have a personal attachment? We need to figure a way out.
This being said, some of us might wonder how to create so much space in a tiny apartment. The truth is that we have plenty of hidden space in our small apartment. We just need to put on our thinking caps and think of ways we can bring them to use.
Here are a few tips to help you out of this 'space constraint' and make your life larger-whether you already have a small house or are going to build one which you think will not be spacious enough.
Identify the areas which are visibly vacant.

Have a close look at your interiors. And there you see - space below and inside the stairs, under your seats, the corners of the room. There's space all around!
Here, the conventional dining chairs are given a miss. Instead long benches are made with storage facility inside.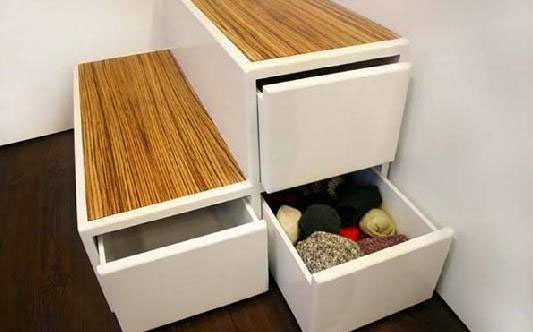 The same idea is applied on the stairs. The stairs are made of wood with a provision for storing clothes and soft toys.
Identify the need for an extra space.
Each one of us need space for different purpose - for some it may be for showcasing their collection of books, for some others, it can be for spending time alone where no one would come to disturb, storing an entire collection of accessories or for a cool place for your pet to sleep -the needs are vast and varied. Once the hidden vacant spaces are identified, go for a quick check -which space fits the best for what.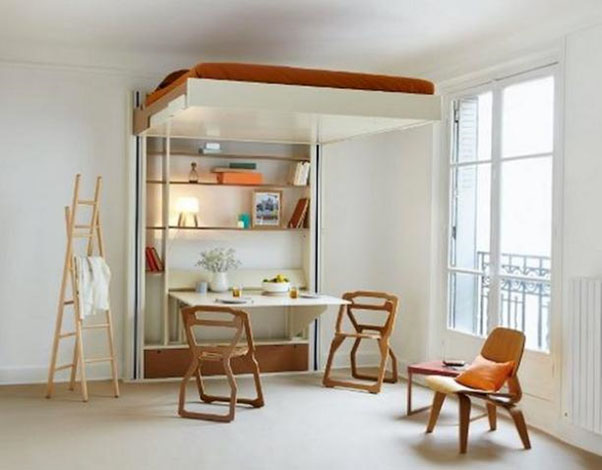 This small bedroom is no more small. The space which the bed could have taken up is now a study area which can be transformed into a eating space for a quick break. Above the table is a sleek shelf and at the top is the deluxe bed.
Alternatively, Murphy beds can be used to create space when not in use.