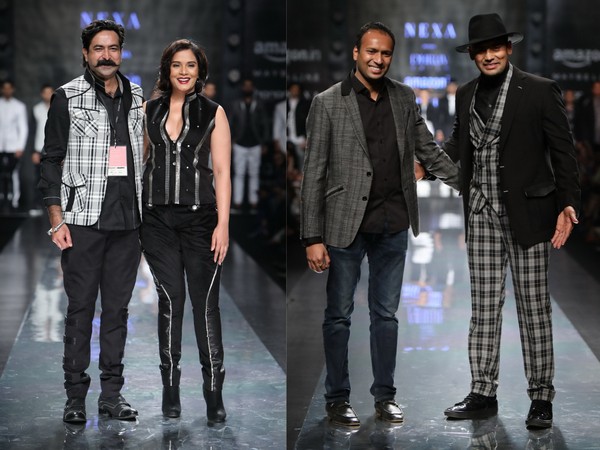 New Delhi, March 18, 2017: The Fashion Design Council of India today presented NEXA Lifestyle Collection on the final day of the Amazon India Fashion Week Autumn-Winter 2017, in association with Maybelline New York. Fashion is core to NEXA. NEXA Lifestyle encapsulates fashion, art & hospitality. The NEXA show was themed on monochrome and featuredDhruvVaish, Kommal&Ratul Sood, Nought One by Abhishek, Pawan Sachdeva, Rohit Kamra and Sahil Aneja, who showcased their collections at the Jawaharlal Nehru Stadium, Lodhi Road.
The NEXA Lifestyle series is an attempt to include the burgeoning menswear market into the repertoire of mainstream fashion. As a part of the same, each designer interpreted the NEXA theme in his own unique way, incorporating the NEXA colours - black, white and chrome.
Sunil Sethi, President, FDCI said, "As menswear now dominates the apparel industry and is further expected to grow at a CAGR of 8.5% over the next five years to reach Rs 131,000 crores by 2017, according to a study, this is time appropriate. Therefore, the NEXA show is quite relevant and looked at design through the lens of both functionality and inventive thinking."
Mr. R. S Kalsi, Executive Director, Marketing& Sales, Maruti Suzuki India Limited commented, "We are delighted to associate with FDCI for Amazon India Fashion Week 2017. This event is about bringing new trends and style for the discerning new age customers similar to NEXA which is at the forefront of bringing innovation by delivering new experiences. A NEXA inspired collection was showcased by six designers today at AIFW 2017, in line with NEXA philosophy of being monochrome, innovative and global."
DhruvVaish'scollection 'Noire' explored the hue black in different forms, patterns, layers and textures along with the highlights of white and chrome. Style gurus Kommal&Ratul Sood identified the architectural skyline, of an urban city in their collection, 'Skylight'.
While Abhishek Paatni's- 'Mayday' was inspired by the tactical uniform of the army's black-ops team which carry out missions under extreme conditions. Interestingly, Rohit Kamra conceptualized the 'yin and yang', creating a fusion of black and white with his signature silhouettes.
Pawan Sachdeva developed fabrics especially for the show, which captured the NEXA moodboard with his collection 'TREG'- classic clothing with a fresh feel. To give the show a classic end, Sahil Aneja's artistic ensembles titled 'Restricted', theorized for a man who is ready to step out his comfort zone into a edgier space, took the center stage.
ABOUT FDCI
A non-profit organization, the Fashion Design Council of India (FDCI), is the apex body of fashion design in India, represented by over 400 members. Founded on the premise of promoting, nurturing, and representing the best of fashion and design talent in the country; its prime objective is to propagate the business of fashion. FDCI stays true to its commitment to promote the 'Make in India' label as handlooms take center stage, in a country, who's heritage is soaked in the flavors of indigenous crafts.
Website: www.fdci.org
ABOUT NEXA
NEXA: A New Premium Automotive Experience
Maruti Suzuki India Limited (MSIL), leader in the Indian automobile industry, had launched NEXA, its new premium sales channel in July 2015. NEXA marks the first initiative by an automobile company to go beyond selling cars and create a new format of retail experience for the customer.
Maruti Suzuki has consistently led the industry in terms of reach, depth and quality of sales and service network. The high level of customer satisfaction at the network has contributed to the Company achieving a market share of over 45%.
Over the years, Maruti Suzuki has relied on customer feedback to introduce new products and create new categories. It was also the first to offer a bouquet of "solutions" to customers (insurance, finance, trade-in of pre-owned cars) at its dealerships. The next step is taking the lead in offering customers "experience", through NEXA.
Customer feedback and surveys have shown there is a growing segment of car buying Indians who desire and value personal care, warmth and attention in their car buying and ownership experience. They want people, technology, showroom ambience and processes to come together and offer them a "premium experience". These customers want to be pampered! NEXA is designed for this segment of customers.
NEXA provides a new experience of hospitality from Maruti Suzuki. Indian market and Indian society are rapidly changing and new segments of customers are emerging.
The NEXA Experience – Many firsts
NEXA is Maruti Suzuki's pioneering initiative to create a new format of premium automotive retail. Relationship Managers have been recruited and trained. Many of them are being hired from sectors like aviation, hospitality and financial services, expanding the talent pool of the automobile sector, another industry first.
While NEXA is best experienced by a personal visit, some highlights are shared below.
NEXA is New Hospitality Experience:
One of the core values of NEXA is pampering and hospitality. Pampering is about listening to the customer; it is about understanding his needs.
NEXA is New "Lifetime" Experience:
Another interesting feature is MyNEXA, a loyalty program that has been designed to offer rewards and recognition beyond the automotive industry. Through co-branded credit cards and tie-ups with lifestyle brands, MyNEXA makes the NEXA relationship more rewarding.
NEXA is New Digital Experience:NEXA is one of the most digitally and technologically advanced buying experiences for automobile customers. Equipped with state-of-the-art ipads, every Relationship Manager will deliver outstanding in-store experience.
NEXA Owner's App, a Smart Phone Application is another technology enabler which helps the customer to recall service history, emergency support, accessory purchase, event updates, booking and manage service requests and even a choice of favourite music.
NEXA is New Design Experience:NEXA showrooms have been designed in a black and white prestige monochromatic theme that showcases the displayed vehicles in their full glory. Special attention has been given to in store lighting. The entire spotlight is on the car. A dedicated in-showroom delivery area, with LEDs and music, brightens up the customer's biggest moment of joy – car delivery - manifold. Interestingly, at the NEXA showroom the customer's first journey in his new vehicle starts when he drives out from a premium air-conditioned showroom.
For further information please contact:
| | |
| --- | --- |
| Divij Krishna – | Anindita Deka - |
| Divij.Krishna@zenogroup.com | anindita@fdci.org |
| (+)91 9654776017 | |
| | |
| Deepti Chhibber - | |
| Deepti.Chhibber@zenogroup.com | |
| | |