Long Jackets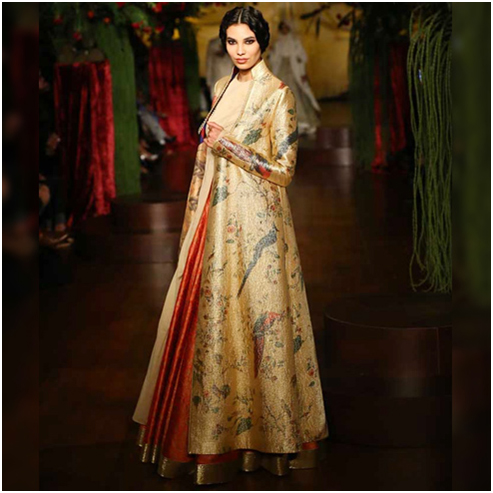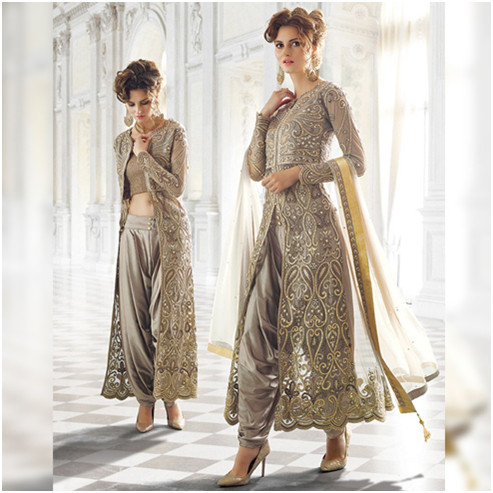 'A tale of royalty sung by the fashion fads'
Our Indian designer such as RohitBal, Sabyasachi, Manish Malhotra actually leads our creative senses to resplendence where we can capture nothing else but the beauty of traditional clothes and Indian culture. If you still feel suspicious of this sentence then please do check the intricacy of these long jacket suits which are worn with such pride.
The long jacket suits are made of much harder and sturdy fabric to restrict its flow but in some special, designer cases, they are made of a net material to send the sheer scintillations.

Artistic Tip:
• Be a badass and complement this royal glare with dhoti suit salwars.
• Don't forget to strut off with Punjabi juttis or mojaris.

Pseudo Jackets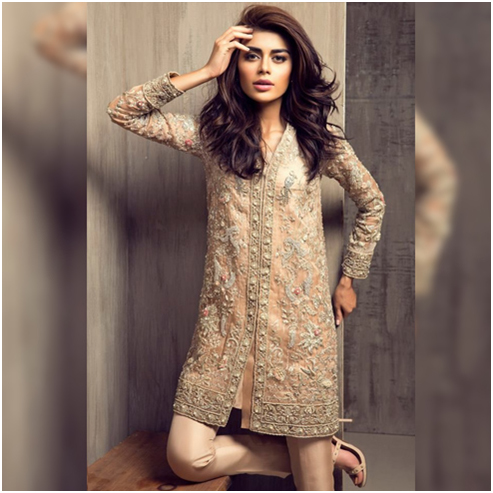 You're fashionistas and you are afraid of some quirk! I doubt you!
Dear, accept the changes and hug the trend with much warmth as do to your teddy!
Pseudo jackets are the in-trend staples of 'salwar suits' where it is hard to notice that the kameez and jacket are the same. These jackets are just worn like kameez or top and are much straight and sturdy in their look.

Artistic Tip:
• Flaunt this contemporary fashion with pant salwars.
• Ravishing stud earrings will look apt with the set.
• Gorgeous embellishments, zari work and embroidery are the most common styles used in them.
Shirt Style Buttoned Jackets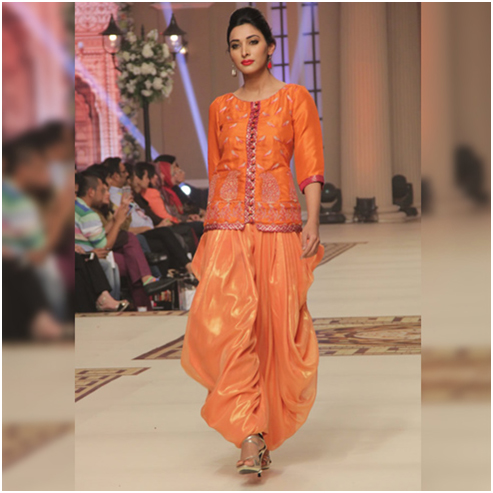 They look just like a traditional shirt which got its ideations from the royales. Even if you think this, this is not 100% false. Our Indian designer and belles are not less than them. The length of this shirt style buttoned jacket varies a lot and thus can be worn with various types of salwars and looks. You can customise the buttons of this type of suits such as fabricated buttons, click buttons, magnetic buttons, casual or regular shirt style buttons.

Artistic Tip:
• You wish to flaunt it? Then, wear a short or waist length buttoned jacket kameez and team it up with pleated Patiala salwar, Harem salwar, Afghani salwar and etc.
• Make sure the colour combination of the kameez and salwar is different.
• Wear matching style statement earrings and bangles and finish off your complete look with mojaris or golden strapped high heels.

Knot Style Jacket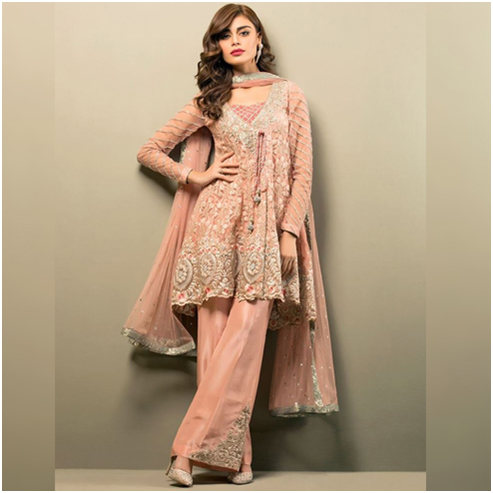 Most classic style of Indian jacket style suits is this knot style jacket suit which involves a minimum of two doris at the centre of the length of the jacket which is further tied to each other. This classic style can create nuance magically which will definitely bring you surprising stares and compliments from all around. Angrakha suit is also a typical example of this style and is loved by most of the stylish women.
Artistic Tip:
• Wear heavy embellished pumps or high heels.
• If you are tall (at least of an above 5'5"), then extend the length of the doris to highlight its beauty.

Designer Jacket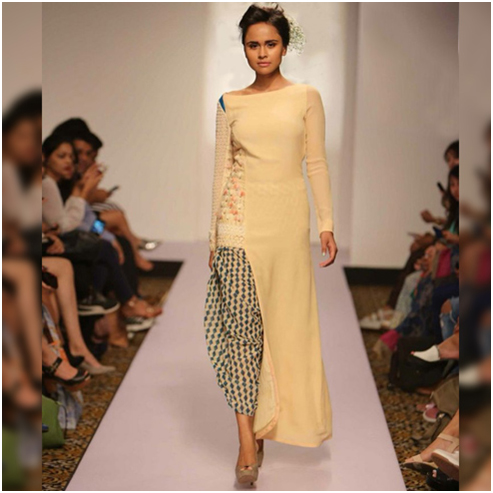 We all love these designer creations and splurge almost thousands or lacs of bucks to own them. And why we do so? Just to have the intricacy of the ideation and master creation!
This section will give you the quirkiest picks as we have shown here their pics as well.

1st Image: The jacket is asymmetrically sewn with the length of the kameez and only left side of the kameez is visible.
In this style, you can catch up the heat with pant style salwars and by carrying minimal jewellery and accessories.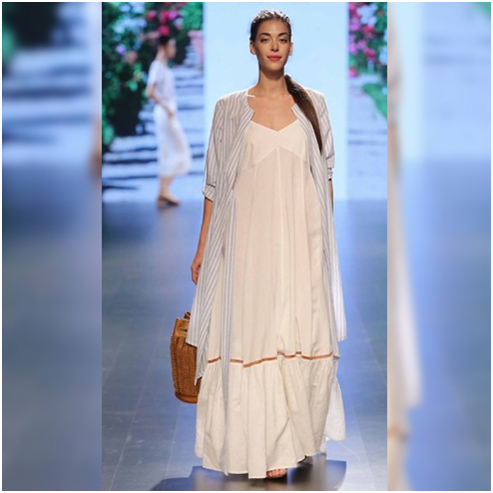 2nd Image: Be it your faveAnarkali or long floor length gown, this shirt style jacket remains the classic hit for stylish women and girls.
Pick out summer best colours such as in pastel or coral hues.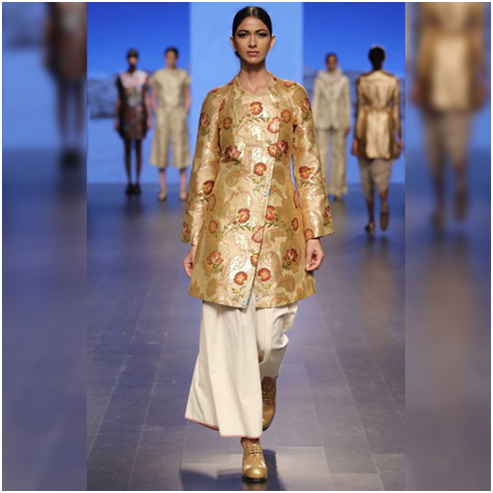 3rd Image: (sigh) – Look at the brocade work and the dazzling hue of this suit! Well, this Angrakha style jacket will bring you fumes from your peers' hearts. Complement it with plain palazzos, pant salwars or any type of salwars to bring the grace.
Ultra Short Jacket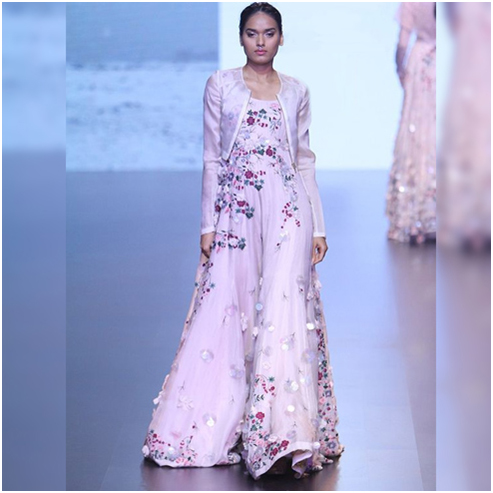 Be it any contemporary gown or any traditional Anarkali gown, short jackets always stay like a blockbuster hit. Isn't it?
Use satin, sheer, denim, crepe, cotton short jacket with any type of designer or plain suit and you will surely receive oodles of compliments from everywhere. A sheer adhere will look bombastic and if the suit set is floral then you don't need any other's suggestion.

Artistic Tip:
• Wear the set with high heels to showcase the glare of the short jacket.
• If you are petite, then get full sleeves and for taller figures, cape sleeves or bell sleeves will be fun.

Jacket Cum Shrug Suit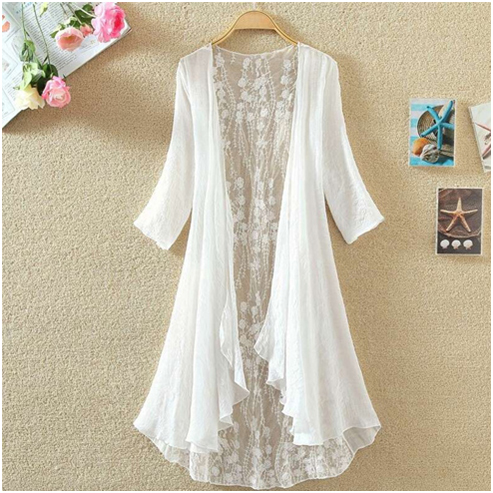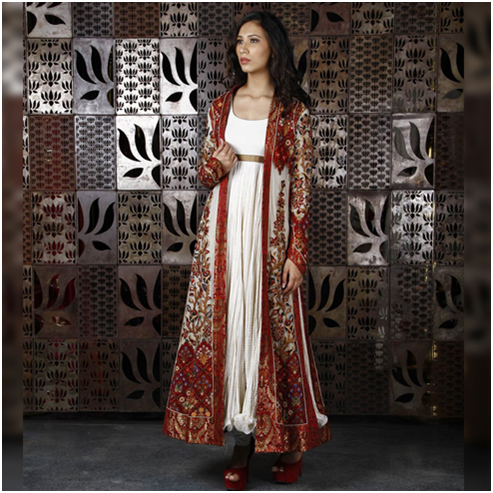 You dream to enjoy contemporariness on the verge of traditional staples! Don't worry; for those daydreamers, our designer has a piece – jacket cum shrug suit which composes a shrug look-alike jacket which has pleats at the end of their folding. The best thing is that there is no compulsion of wearing them with only ethnic wears and can be worn with western dresses as well.
Keep the heat on the top of their heart by ordering this type of Indo-western jacket with full or quarter sleeves. You can also play the game with kimono sleeves or Bertha sleeves.

Artistic Tip:
• Highlight the lavish sense of this jacket by complementing it with matching high pumps.
• Don't forget to wear hanging or chandelier earrings with them if your shrug cum jacket or vice versa is long!
• A smoky makeup and spicy lip-shade is a must thing.

Angrakha Jacket suit
A great welcome to all Angrakha lovers and deep condolence to haters; here the designers have brought a new line of Angrakha jacket suits which are as exquisite as feather softies. (I think softies can be used as an allegory!)
The Traditional Method - One can tie the knots or doris at the sides while letting loose the pleats of the suit fall free. Under this type of jacket, a plain kameez is paired.
The Modern Method – These jacket suits involve fabricated or magnetic buttons instead of knots or doris at the sides.

Artistic Tip:
• This style is a hit in skirt suits and lehenga suits.
• Do a high and clean bun and avoid wearing extra jewels to highlight the natural beauty of yours and your classic choice.

Asymmetrical Jacket Suit
As its name suggests, this type of jacket suit is not at all a conventional one and can be worn when you're in a mood to present fashion shocks to your peers. The best thing of this type of salwar suit for women is that it can be worn in college fests, festival times, cultural fests and as well as westernised or non-traditional occasions.

Artistic Tip:
• Be it Patiala or palazzo style salwar, this style will hit the board in any case.
• Drape this style with oxidisedjewellery and potli.

Double Shirt Design
You can hit the double shirt design at any time of the season and blush at no cost! This type of jacket suits are generally tied up with at the neck area and it almost feels like a bib tied in an ultra fashionable style. They are generally available in silk, crepe, satin and velvet fabric and are the most fabulous style in Pakistani designer couture.

Artistic Tip:
• Carry this suit seriously according to the colours and the mood of the season.
• You will never go wrong if wear them with straight cut slim trouser pants or salwars. Avoid pleated salwars such as Patiala or Afghani.
• You can ditch necklace in this genre and can complement with chandelier earrings.

Hi-Low Jacket Suit
Pitch up your glare by wearing a high-low suit or high-low jacket in a suit. Be it in anything, this nonchalant style will surely give you an ethereal appeal. In general, these jacket styles showcase a long tail with many pleats and curves and single pseudo-closure is always given on the top. The border work of the jacket or embellishment adds spice to its appeal.

Artistic Tip:
• Cut out high heels with work patterns will look awesome.
• Complement this style of jacket with contrasting kameez or salwar to highlight its beauty. Make sure the inner kameez has a straight or slim cut.
• Chandelier maangtikka or Pakistani pasha or side maangtikka is the best thing you can add to this genre.

Peplum Style Jacket
Trust me; you just can't miss out this sassy yet classic staple from the closet (if you have it!).
Wide the opportunity of your wearing jacket with traditional as well as western clothes by buying a cool embroidered peplum style jacket. Play with the hues this time and involve some pretty feminine craze in them as well, such as floral embroidery, Kantha stitch, pretty abstract zari work or brocade work and etc.
They do not have any closure system and thus provide the best peek-a-boo to your suit set.