When you think of a man cave, what comes to mind? Aggressive deer heads slapped above the mantel? Unsightly sports paraphernalia scattered across the walls? Bulky suede sofas taking up half the room? While these style-deprived clichés are all too familiar, they certainly aren't necessary for achieving that quintessential look. With the general conventions of a man cave in mind, there are plenty of ways to make your home-base hideaway both traditionally cool and full of style
COOL-TONED CAMO
An explosion of pattern and color—grounded in a moody blue palette—gives this space a fun and sophisticated feel.
WOOD-CLAD WALLS
Wood paneling, dark decor, and window shades render this man cave irresistible, with plenty of room to relax, pick up a book, or enjoy a good sports game.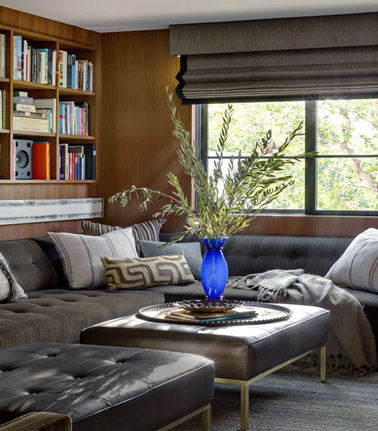 ROCKING OUT
In a sprawling Bel Air mansion designed by Lonni Paul, this area was built for the musically inclined. A wall of stylish guitars serves both form and function, while a gorgeous pale blue drum set is made for jamming out.
STATEMENT ART
Courtney Cox's private retreat goes bold with a painting by Arsen Roje; the perfect backdrop to an energized game of pool.
SMART SEATING
Rounded furniture and an elevated banquette makes for the perfect movie-watching experience in this luxe Lincoln Park Home.
KEEPING A LOW PROFILE
In an L.A. home designed by Tommy and Kathleen Clements, the man cave leaves no room for excitement-induced spills, with a cocktail table made from a circa-1880 slate slab.
FUTURISTIC FEEL
A contemporary take on the classic pool table creates a striking centerpiece to this monochromatic home bar area.
SPORTY BAR STOOLS
A man cave's lounge area boasts a sultry and sophisticated masculine design. The black leather tufted bar provides a contrasting backdrop to the bright red bar stools, and the spirits are displayed on deep wood-clad shelves.
YOUTHFUL ECLECTICS
This eclectic and playful seating area begs you to have fun; an oversized Hush sculpture sits behind the teal quilted couch, while a massive red Baxter lamp hangs above. The old-school gumball machine reinforces the room's youthful vibe.
CUSTOM BILLIARDS TABLE
In Colin Kaepernick's sophisticated California bachelor pad, a former dining room was transformed into a sleek man cave anchored by a gorgeous custom pool table.